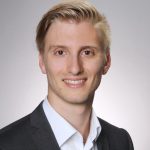 Immanuel Matt is an IT and management consultant specializing in Regulatory Reporting and Process Optimization.
Immanuel's consulting experience focuses on the NPOs sectors and financial economy. He has in-depth knowledge and familiarity with Fundraising Controlling Systems and their Performance Measurements and Optimization in NPOs.
Immanuel studied Economics at the University of Basel, Switzerland, and Business Administration / International Business at the Napier University of Edinburgh, Scotland and the Cooperative State University in Loerrach, Germany and holds a B.A. degree (2016).